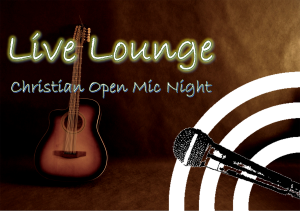 Christian Open Mic Night,
Here at Viney Hill Christian Adventure Centre we held a series of open mike nights October 2017 -March 2018. It was wonderful to see so many from Across the Forest come together for music and fellowship. Listeners, singers, singer song writers all came together and sparked new relationships, links and partnerships.
We'll be running more events in the Autumn and Winter of 2018/19. 7-10pm.
Autumn dates are now confirmed as:
21st September
16th November
Whether you are looking for a good night out or for somewhere to showcase your talent, our Live Lounge evenings could be just the place for you. We are looking for local Christian singers and song writers to come along and be part of these evenings.
You can just come along and listen to the music or, if you want to perform, the format is as follows. You can pre-book or just turn up on the night. We hope each participant will do 3 songs. They can be Christian or secular in content or a mixture of both. You can cover someone else's song or share your own composition. Once everyone has shared their 3 songs there may be an opportunity to do more, depending on time.
Get in touch if you are interested, contact: kate@vineyhilladventure.org for more information.
Here are just a few photos. We always have an amazing night with a wide range of performers and folk who come along to listen. Thanks to everyone!