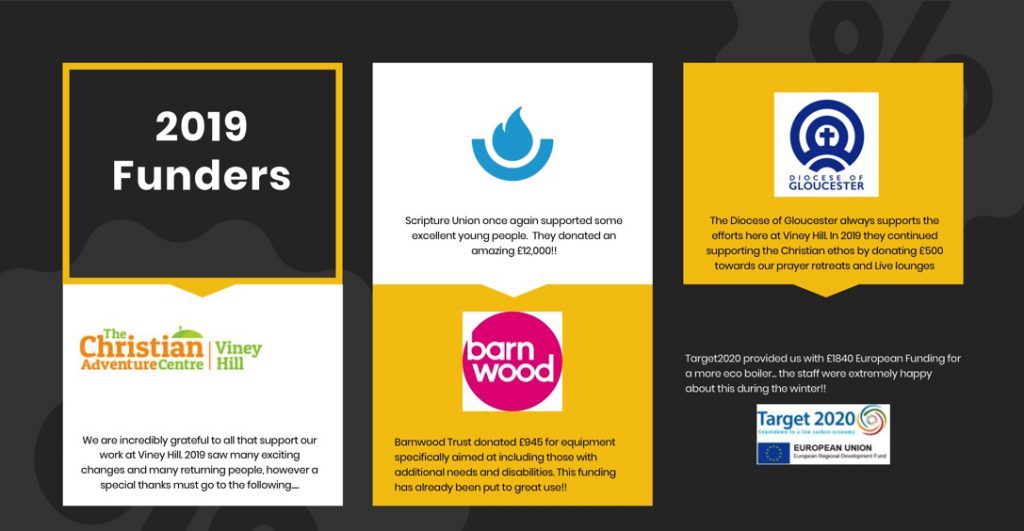 Grant Funding that supports our work.
We have recently received Grant Funding from the following organisations. We are extremely grateful for these supporters as they enable our charitable work and help us develop new activities and improve our facilities.
We want to thank:
Sylvanus Lysons, £12,000 per year for 3 years
This money helps us to subsidise disadvantaged groups and our young seasonal placements.
Gloucestershire Development Fund, Gloucester Diocese: £8,900 each year until June 2020

who fund the Wellspring Support work to support church based, social action projects; informing, resourcing and supporting joint working between the churches and expanding the work of the centre to include training a resourcing the local church.
Awards for All: £9, 750
who are funding an upgrade our facilities for those with disabilities.
All Churches Trust: £1,100
who are funding the development of our camping centre building so they can be used all year round.
Commissioners Fund: £700
To fund a canoe and encourage stronger realtionships with our local PCSOs and Neighbourhood Policing Team
Summerfield Charitable Trust: £1,700
who support our work to run Wellspring Arts and Crafts Group