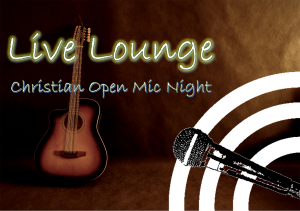 Listeners, singers, singer song writers, story tellers, poets, comics, all are welcome. Fridays 7:30-10pm.
Remaining dates for 2019 are now confirmed as:
Whether you are looking for a good night out or for somewhere to showcase your talent, our Live Lounge evenings could be just the place for you. We are looking for local Christian singers and song writers,  listeners, story tellers, poets, and comics to come along and be part of these evenings.
You can just come along and listen to the music or, if you want to perform, the format is as follows. You can pre-book or just turn up on the night. We hope each participant will do 3 songs or a 10 minute slot. They can be Christian or secular in content or a mixture of both. Once everyone has had their 10-15 minute slot there may be an opportunity to do more, depending on time.
Get in touch if you are interested, contact: kate@vineyhilladventure.org for more information.
Here are just a few photos. We always have an amazing night with a wide range of performers and folk who come along to listen. Thanks to everyone!